10 Less-Crowded Alternatives to the Popular National Parks
Every year, it seems as though the most popular national parks in the United States break visitor records. While it's great that people are getting outside and exploring the beauty of nature, it's not so great when you're looking for some peace and quiet. So how can you enjoy nature without any crowds? You can plan a trip to one of the lesser-known alternatives to popular national parks!
Crowd-Free Alternatives to Popular National Parks
While there's certainly no substitute for seeing some of America's most popular national parks, we've put together a list of national park alternatives worth visiting, especially if you're looking for places with less crowds.
In fact, some of these alternatives to popular national parks rank as a few of the least-visited national parks in the country. Yet they still offer amazing sights that will leave you in awe.
So the next time you're planning a vacation, consider skipping those crowded national parks and explore the incredible beauty of these national park alternatives.
Related: The Best Gifts for People Who Love National Parks
1. Lassen Volcanic National Park
Instead of Yellowstone National Park
Yellowstone National Park isn't the only place in the country where you can view fascinating hydrothermal features. You can also head to Lassen Volcanic National Park in California. This park is home to a number of hydrothermal areas that include boiling pools, bubbling pits of mud, and hissing cracks in the earth.
Bumpass Hell is the largest and most popular hydrothermal area in Lassen Volcanic National Park. Some of the other interesting hydrothermal areas include Boiling Springs Lake, Little Hot Springs Valley, Sulphur Works, and Devil's Kitchen.
Another interesting fact about the park is that it's one of the few places in the world where you can find all four types of volcanoes: plug dome, shield, cinder cone, and stratovolcano.
2. Cumberland Gap National Historical Park
Instead of Great Smoky Mountains National Park
All you have to do is take one look at the incredible views to understand why Great Smoky Mountains National Park is the most visited park in the country. While it's one of my favorite places, I admit the crowds can get a tad bit overwhelming.
Related: The Best Hikes in Great Smoky Mountains National Park
So if you're looking for a place where you can take in breathtaking mountain views without feeling like you're standing on top of other people, head to Cumberland Gap National Historical Park.
Located just two hours away from Great Smoky Mountains National Park at the intersection of Tennessee, Kentucky, and Virginia, Cumberland Gap has miles of scenic trails, caves, and other natural wonders for you to explore.
Related: 10 Amazing Hikes You Must Do in Tennessee
Consider taking the Tri-State Trail to the Tri-State marker so you can stand where the three states meet. Or join a 2-hour ranger-guided tour of Gap Cave to marvel at the glistening stalactites, towering stalagmites, and flowstone cascades.
3. Black Canyon of the Gunnison National Park
Instead of Grand Canyon National Park
The Grand Canyon is a truly spectacular natural wonder. If you are planning a visit to this park, consider heading to the North Rim instead of the South Rim. Although the North Rim offers similar dramatic views, it isn't as crowded as the tourist-heavy South Rim.
Another option is visiting Black Canyon of the Gunnison National Park in Colorado. This park's deep canyons, plunging cliffs, and rocky spires offer plenty of awe-inspiring views.
You'll also find trails on some of the steepest cliffs that test even the most experienced hikers. But don't worry if you're not an expert. You'll also find plenty of short hikes that still deliver incredible views.
4. Devils Postpile National Monument
Instead of Yosemite National Park
Famed naturalist John Muir once described Yosemite as "by far the grandest of all the special temples of nature I was ever permitted to enter." While Yosemite National Park certainly is beautiful, Muir might feel differently visiting today and sharing it with its estimated 4.5 million annual visitors.
If you're looking for another area that has dramatic waterfalls, towering rock formations, and pristine mountain scenery, head to Devils Postpile National Monument in California. Located about 90 minutes from Yosemite, the national monument is home to the Devils Postpile — a rare geologic formation of columnar basalt.
Another popular attraction at the monument is the 101-foot high Rainbow Falls. The area has about 8 miles of trails for all fitness levels. You can also find several trailheads that will take you into the Ansel Adams Wilderness.
Related: The Fool-Proof Way to Prevent Blisters While Hiking
5. North Cascades National Park
Instead of Glacier National Park
Glacier National Park isn't the only place you can go in the U.S. to see glaciers. Another great option that isn't as crowded is North Cascades National Park in northern Washington.
Although this park isn't as well-known as some of its nearby counterparts, it's equally as beautiful with its forests, valleys, and more than 300 glaciers. Plus, with 400 miles of hiking trails, it's the perfect place to find some peaceful solitude.
Your options range from accessible trails and short strolls to steep mountain hikes that will truly challenge your stamina, so you'll have no problems finding some options that perfectly suit your needs.
Related: 10 Things You Should Always Bring on Every Hike
6. Isle Royale National Park
Instead of Acadia National Park
Every year, around 3.5 million people visit Acadia National Park to enjoy its boating, climbing, and hiking opportunities, making it one of the top 10 most-visited national parks in the country. But you can enjoy all of these activities in a calmer environment when you visit Isle Royale National Park in Michigan.
This national park extends about 4.5 miles into Lake Superior and consists of one large island surrounded by over 450 smaller islands. The isolated island is far from the hubbub of civilization, so it's the ideal place to escape and unwind.
It also offers plenty of adventure opportunities for hikers, backpackers, paddlers, boaters, and scuba divers. Plus, if your favorite part of Acadia is visiting the Bass Harbor Lighthouse, you don't have to worry. Isle Royale also has 4 lighthouses to explore!
7. Grand Staircase-Escalante National Monument
Instead of Zion National Park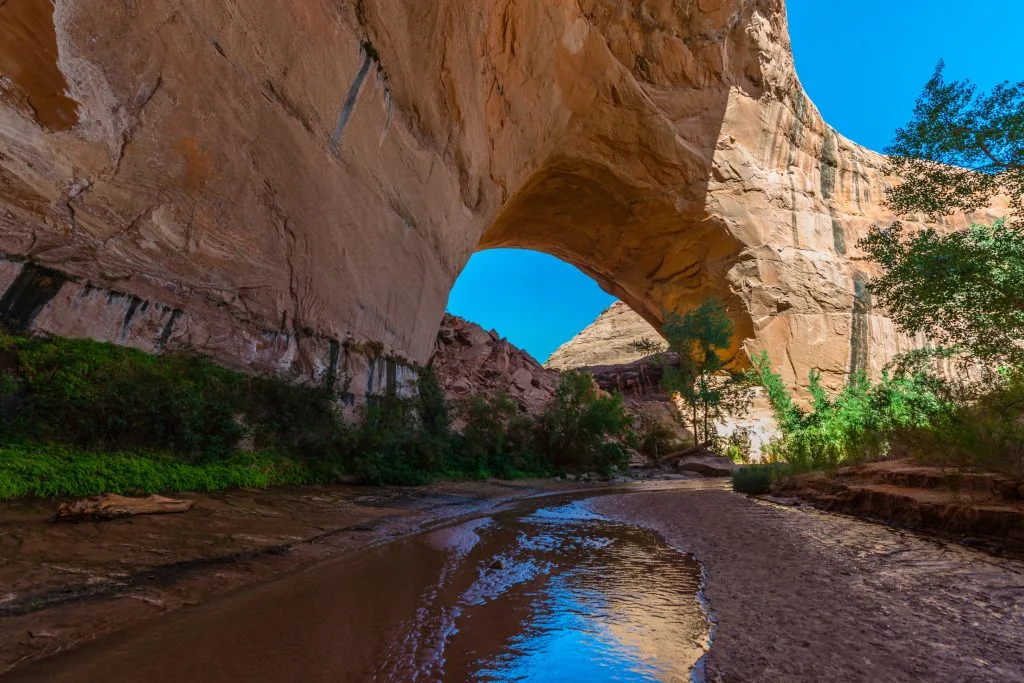 While we're listing Grand Staircase-Escalante National Monument as a good alternative to Zion National Park, you can honestly use it in place of any of Utah's five popular national parks, including Zion, Arches, Bryce, Capitol Reef, and Canyonlands.
Although Grand Staircase-Escalante isn't a deserted area, it measures its number of annual visitors in the hundreds of thousands instead of in the millions. Plus, entrance to the national monument is free!
It covers nearly 1.87 million acres of scenic land in southern Utah and has all of the iconic features you can find at the other national parks, including rock arches, slot canyons, and sandstone cliffs.
Related: How to Stay Cool When You're Hiking in the Heat
8. Lake Clark National Park and Preserve
Instead of Denali National Park and Preserve
Alaska is known for its remote and wild national parks. Even its famed Denali National Park and Preserve only has one road going in and out.
But if you're really looking to escape humanity, you should consider visiting Lake Clark National Park and Preserve. This national park has ZERO roads leading in or out. The only way to reach it is by plane or boat.
The most popular activity in the park is bear viewing, so make sure you brush up on your wildlife safety tips before visiting.
You can also challenge yourself to a steep and rigorous hike to the top of Tanalian Mountain for stunning panoramic views of Lake Clark. Or enjoy a hike to the powerful Tanalian Falls.
9. Sawtooth National Recreation Area
Instead of Grand Teton National Park
Grand Teton National Park is known for its sharp, soaring peaks. However, if you keep driving past the national park and into Idaho's Sawtooth Mountain Range, you'll discover plenty of rugged and scenic peaks that you can easily mistake for the Teton Mountain Range.
Redfish Lake in Sawtooth National Recreation Area is one spot that bears a striking resemblance to Jenny Lake in Grand Teton National Park. It also has several hiking trails around it worth exploring.
Plus, with over 700 miles of other trails in the recreation area, you can spend days exploring the area and still not see everything it has to offer. In addition to hiking, other outdoor adventure opportunities in the 756,000-acre recreation area include camping, backpacking, paddling, fishing, boating, bicycling, photography, and nature viewing.
10. John Day Fossil Beds National Monument
Instead of Badlands National Park
Badlands National Park covers 244,000 acres of land and is home to one of the largest fossil records of ancient mammals. This is just one reason why it attracts around a million visitors each year.
Are you looking to explore the prehistoric past but without all the crowds? Then visit John Day Fossil Beds National Monument in Oregon.
The colorful rock formations here preserve a variety of past ecosystems that span over 40 million years. All three areas of the national monument have hiking trails.
In the Clarno Unit, the quarter-mile Trail of Fossils loop is the only trail in the park where you can readily see fossils in the rocks. The Sheep Rock Unit has the main visitor center and 7 hiking trails that range from 0.25 miles to 3.25 miles in length.
Of the three units in the park, the Painted Hills Unit is the most visited. This area has 5 trails that showcase the hills with their stunning and colorful stripes of red, tan, orange, and black.
Related: Do You Know the 7 Principles of Leave No Trace?
The Best Alternatives to Popular National Parks
You don't have to fight with hordes of people to see the amazing beauty this country has to offer. Instead, make plans to visit these top alternatives to popular national parks and take in the memorable scenery without all the crowds.
More Helpful Hiking Tips
Did you enjoy learning about the best alternatives to crowded national parks? Are you interested in even more helpful hiking tips? Then please be sure to take a look at some of our other popular posts: