10 Best Hikes in Chattanooga, TN
Located on the Tennessee River and the foothills of the Appalachian Mountains, Chattanooga, Tennessee, is known as an outstanding destination for outdoor lovers. If you're interested in doing some hiking in Chattanooga, you're in luck. This list of the best hikes in Chattanooga is sure to please.
You'll find everything from easy hikes that are good for families to challenging hikes that are sure to give your legs a workout! No matter what type of trek you're interested in, you know you'll have a memorable experience when you check out these best hikes in Chattanooga.
Plus, if you plan on doing even more hiking in the state, don't forget to check out our guide on the top 10 most scenic hikes in Tennessee!
1. Bluff Trail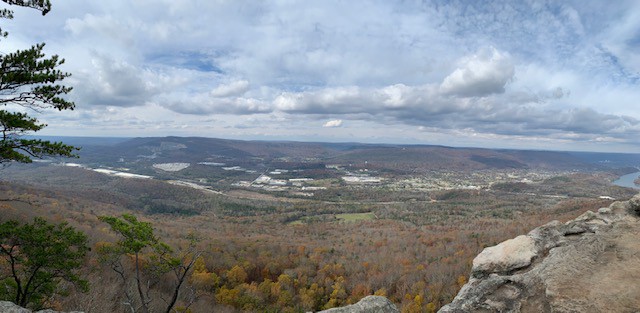 Tucked along the side of Lookout Mountain, Bluff Trail delivers amazing views every step of the way. One popular destination along the 5-mile trail is Sunset Rock, which is considered one of the best places to see the sunset in Chattanooga. However, you can continue further along the trail to enjoy even more views of the Cumberland Plateau.
There are several ways you can reach Bluff Trail. You can park at Point Park, pay the small entrance fee to get into the park, and take the steps down to the trail. Point Park offers dramatic views of the city and surrounding mountains, so the fee is often worth it.
You can also start at Cravens House and take the 0.7-mile Cravens Trail that connects to Bluff Trail.
Bluff Trail is an easy trail that's ideal for hikers of all ages and skill levels. However, we do want to note that it's a moderately rocky single-track trail that does have some narrow areas and steep parts. So you'll definitely want to keep a close eye on young children.
Related: How to Have Fun Hiking With Kids
2. Snoopers Rock Trail
If you're looking for one of the best panoramic views of the Tennessee River Gorge, Snoopers Rock Trail is for you.
Since this trail is located just outside of the city, it can get a little busy on the weekends. But you shouldn't let that stop you from exploring it. The rocky point that showcases a breathtaking view of Tennessee's version of Horseshoe Bend is well worth any crowds you might face.
The 5.9-mile out and back trail does deliver a few climbs and some moderate elevation gains. However, if you're looking for an easy hike, you can head straight to the upper parking lot and take the 0.5-mile trail right to the overlook.
Related: The Best Hiking Trails Near Asheville, NC
3. Fiery Gizzard Trail
Not only is Fiery Gizzard Trail one of the most iconic trails in the Southeast, but it's also considered one of the top 25 trails in the country! While it's maintained by South Cumberland State Park, it travels through portions of Grundy Forest State Natural Area, Fiery Gizzard Recreation Area, and Foster Falls Recreation Area.
The 12.5-mile trail follows Fiery Gizzard Creek before running along the canyon rim to Foster Falls. You can also opt to take the Raven Point Overlook Trail to add a breathtaking overlook to your journey.
This challenging full-day hike is ideal for experienced hikers. If you're up to the challenge, you'll be rewarded with a hike that offers rushing streams, soaring rock walls, thick forests, numerous waterfalls, and jaw-dropping scenic overlooks.
Related: The Best Hiking Trails in Florida
4. Cloudland Canyon State Park
Even though Cloudland Canyon State Park is actually located in Georgia, we're still including it on this list of the best hikes in Chattanooga because it's only 30 miles from the city and it offers some of the best waterfall views in the area.
Related: Most Stunning Hiking Trails in Georgia
The park has 64 miles of hiking trails, so you know you'll have no problems finding something you'll enjoy. However, one of the best trails is the Waterfall Trail. Although this trail is only 2 miles round trip, it offers a strenuous hike since it quickly drops down into a canyon.
The first waterfall you'll come to is the dramatic 60-foot Cherokee Falls. If you continue a half-mile down the trail, you'll then reach the small but scenic Hemlock Falls.
5. Big Daddy Loop
The Big Daddy Loop is a hiking trail that certainly lives up to its name. While this 10-mile trail is popular with trail runners, it also offers a leg-pumping challenge for hikers.
The loop is made up of 7 trails on Lookout Mountain. Your trek will start at Cravens House on the Cravens House Trail. You'll then hike your way along Rifle Pits Trail, Guild Trail, Gum Springs Trail, Skyuka Springs Trail, and John Smartt Trail before finishing up your epic hike on Bluff Trail.
Related: Best Hikes in Great Smoky Mountains National Park
6. Stringers Ridge Park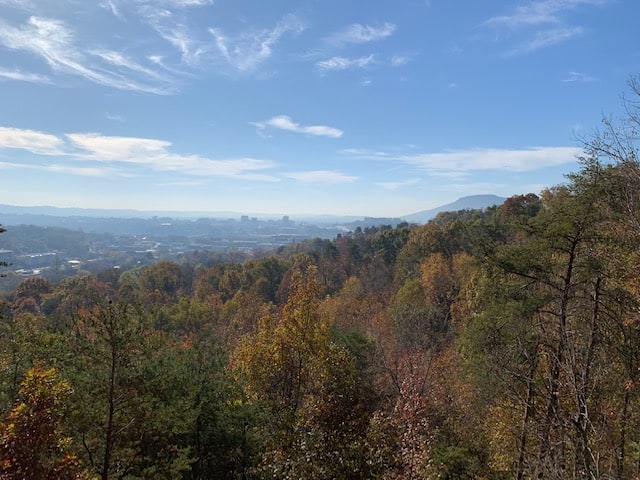 Stringers Ridge Park is a popular park for mountain bikers, trail runners, and hikers alike. There are plenty of smooth, short trails in the park, which also makes it ideal for families.
Located just 2 miles north of the city and situated above North Shore, the 92-acre park delivers fantastic views of downtown Chattanooga. The highlight of the park is the observation deck, which you can access off Cherokee trail and offers sweeping views of the city.
Pro Tip: Parking for Stringers Ridge Park can sometimes be difficult to find. Your best bet is to head to the parking lot on Spears Avenue. If you're interested in checking out the overlook, take the Spears Access trail to Hill City trail. From there, make a left onto Strut trail and another left onto Cherokee trail.
Related: The Best Child Carrier Hiking Backpacks
7. Bay Point Loop Trail
Located in Harrison Bay State Park, Bay Point Loop Trail is a 4.5-mile hiking and biking trail that follows the winding shoreline of Chickamauga Lake.
Since the trail sticks to the shoreline, it's mostly flat and level, which makes it ideal for families and novice hikers. However, the trail does still offer some small climbs to keep it interesting. Plus, you'll also enjoy plenty of scenic views of the lake.
Related: What to Bring on a Hike
8. Glen Falls Trail
Glen Falls Trail is one of the best hikes in Chattanooga for kids. The 2-mile trail is only 15 minutes from the city and offers an easy hike without too much elevation gain.
Along the way, children will have a blast scrambling along a natural playground of boulders, rocky staircases, and man-made tunnels and bridges. At the end of the trail is Glen Falls.
Glen Falls is a high-mountain waterfall, which means the amount of recent rain will determine how much water is flowing. If it has been dry, the falls might just be a trickle. However, if there has been plenty of rain, you'll hear the crashing falls before you see them.
Related: How to Stay Dry Hiking in the Rain
Pro Tip: The trailhead for Glen Falls Trail can be hard to find. Get on Ochs Highway and look for a paved pull-off area that's about 150 yards past the Sanders Road intersection. You'll see a small sign that confirms you're in the right spot.
9. Rainbow Lake Trail
Located on top of Signal Mountain, Rainbow Lake Trail offers an easy hike that hikers of all levels can handle. However, the trail also includes a variety of offshoots that can make your trek more challenging.
The trailhead for Rainbow Lake Trail is located off a small parking lot on Ohio Avenue. Once you begin, you'll walk beside a golf course and pass an old spring house before descending into the forest.
When you reach a junction in the trail, you can go left to follow Rainbow Lake Trail. However, we recommend you go right and take the Bee Branch Trail. While this 2.3-mile loop has some rocky and challenging sections, the views along the way are worth the effort.
No matter which direction you decide to go, you'll eventually find yourself at the picturesque Rainbow Lake area with its 100-foot-long Middle Creek suspension bridge and 1916 Rainbow Lake Dam.
Once you're done taking in the views, you have several options for your return trip. You can take Rainbow Lake Trail or Bee Branch Trail back to your vehicle.
Or, if you still have some energy remaining, take the southern section of the Cumberland Trail 1.4 miles to Signal Point for an absolutely spectacular overlook. You can then walk on Signal Point Road for a half-mile back to your car.
10. Cumberland Trail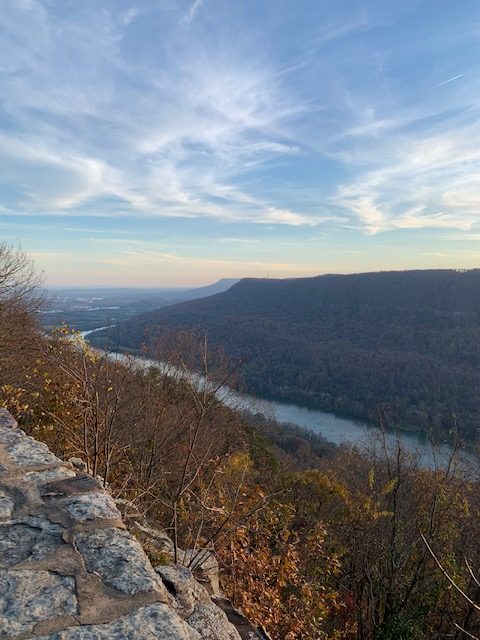 When the Cumberland Trail is complete, it will span 282 miles from Cumberland Gap on the Tennessee-Virginia-Kentucky border to the Tennessee River Gorge in Chattanooga.
Related: Must-Do Hikes You'll Only Find in Virginia
With several sections near Chattanooga, the Cumberland Trail is one of the best ways to explore the rugged and remote terrain of the area. The Tennessee River Gorge Segment has four sections: Signal and Edwards Points, Poplar Springs, Mullens Cove Loop, and Pot Point Loop.
The North Chickamauga Creek Segment currently has one 8.3-mile trail that will eventually connect with the Tennessee River Gorge Segment. This is a difficult section that includes creek crossings, ladders, steep slopes, and rugged ascents.
The Three Gorges Segment has four sections: Rock Creek Gorge, Possum Creek Gorge, North Soddy Creek Gorge, and South Soddy Creek Gorge.
You can also choose to drive about 30 minutes north of the city to check out the Laurel-Snow Segment, which has three segments: McGill Creek, Graysville Mountain, and Laurel-Snow State Natural Area.
Best Hikes in Chattanooga
With so much natural beauty in the area, it's easy to see why Chattanooga is considered one of the best places in Eastern Tennessee for outdoor adventure. The next time you're planning on doing some hiking in the region, be sure to check out a few of these best hikes in Chattanooga.