Best Outdoor Subscription Box Hikers Will Love
Whether you're interested in discovering some of the latest outdoor gear, or you're looking for an awesome gift for the outdoor lover in your life, the best outdoor subscription box for hikers is the perfect idea. Of course, with so many different options available, how do you know which subscription box for hikers is right for you?
The following outdoor subscription boxes are available for men, women, and children, so you'll have no problems finding one you love. Plus, since they come packed with camping gear, nutritious hiking snacks, durable backpacking products, and more, you'll enjoy checking out some of the newest products for every outdoor adventure.
Related: The Best Gifts for National Park Lovers
1. Hiker Crate
Hiker Crate is a health and fitness subscription box that specializes in helping you get the most out of every outdoor adventure you take.
Every month, you'll get a perfectly curated box filled with high-quality and useful hiking equipment. This includes 2 or 3 unique gear items and 3 to 6 healthy snacks.
Since Hiker Crate explores new outdoor companies that you might not otherwise find out about, you'll also receive exclusive discounts so you can pick up even more helpful gear to fuel your outdoor fun.
Related: Not Sure What to Bring on a Hike? This Packing Guide Will Help!
2. Wild Woman Box
The goal of Wild Woman Box is to make the outdoors accessible and inclusive for all women. That's why every month this box includes hand-picked gear, snacks, and body products to support an active outdoor lifestyle.
With so many amazing products included in every box, you'll be looking for more excuses to get outside and try everything!
Related: The Most Comfortable Hiking Boots for Women
3. The Hiker's Compass
If you live in or near New Jersey and you love hiking, The Hiker's Compass is the best outdoor subscription box you can get. This awesome box is designed to help you expand your knowledge of New Jersey State Forests.
Each month, you'll receive a box packed with a postcard showcasing one of the forests in the state, maps, forest information cards, plant foraging information, and hiking accessories.
Don't live near New Jersey but still want to check out the excellent hiking accessories? That's OK! You can also sign up for a general box that includes hiking information anyone in any state can enjoy.
4. Think Outside Boxes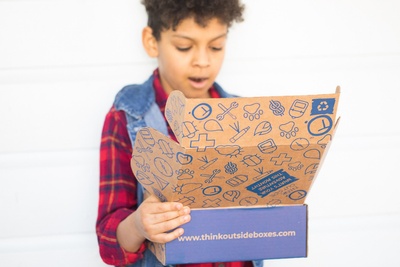 If you want to get your kids away from screens and outside exploring nature, Think Outside Boxes are the perfect gift for them. These award-winning boxes are designed to promote exploration and teach kids about outdoor survival.
Related: 7 Sanity-Saving Tips for Hiking With a Toddler
Every subscription starts with the Intro Box, which includes a backpack, some gear, activities, resources, and challenges. After that, each monthly box comes with 3 to 5 pieces of high-quality gear to start filling up the backpack.
Every box covers a different theme, with topics that range from first aid and outdoor shelters to nutrition and night-time discoveries. Best of all, with so many hands-on tasks that explore the amazing aspects of nature, kids young and old will find something fascinating in each box.
5. Backpack the World
It's not always possible to travel the world to learn about different countries and cultures. However, with the Backpack the World subscription box, kids can travel to a new country every month without actually leaving their home.
The boxes are designed for children between the ages of 9 and 16. Each month focuses on a different country and includes a craft project, a product from the country, maps, currency exchange information, a traditional recipe, some common language translations, and a note from your tour guide.
The first box comes with a sturdy backpack that can be used to hold everything collected from the subsequent subscription boxes. Each kit also includes a country badge you can iron onto the backpack.
Related: The Best Backpack for Every Type of Hiker
6. SCOUTbox
SCOUTbox was created by two Eagle Scouts to help kids and families explore the great outdoors. Every monthly subscription box delivers outstanding gear, snacks, accessories, and educational items right to your door.
Each month is based on a different theme, such as camp cooking, backpacking, emergency preparation, and outdoor tech. You'll also receive plenty of educational items that make it easy for everyone in the family to learn useful outdoor skills.
Related: The Best Delicious and Nutritious Backpacking Meals for Vegetarians
Best of all, these crates are huge. With an MSRP value that often ranges between $65 and $85, you'll always get more than what you pay for.
7. Cairn
Get ready to head out on your next outdoor adventure with even more helpful and useful gear thanks to Cairn. This best outdoor subscription box lets you decide whether you want to receive a monthly or quarterly shipment.
No matter which one you select, you'll receive high-quality products for all of your outdoor needs. Each box includes a mix of accessories, apparel, and healthy snacks to help you hit the trail and be prepared for everything.
8. Timber Edge Outdoors
Whether you like to camp, hike, fish, or hunt, the Timber Edge Outdoors subscription box is for you. This best outdoor subscription box is put together by a family that loves to explore the great outdoors, and they want to share that passion with you.
They search for new outdoor products from vendors across the country so that each month you can get 4 to 6 unique items that will fuel your fun.
Plus, since outdoor adventures can change depending on the season, you'll get new and different items depending on the time of year.
Related: 50 Stunning Fall Hikes in the U.S. (One in Every State!)
9. Camp Life Crate
Whether it's in a tent, in a van, or in a motor home, if you like camping, you'll love receiving the Camp Life Crate. You have your choice of two awesome crates delivered quarterly.
The Glamping & VanLife crate includes 5 to 7 items focused on life-on-wheels and modern comforts. The Outdoor Essentials crate delivers 3 to 5 items that you'll definitely enjoy bringing along the next time you're backpacking.
No matter which one you pick, you know you'll get a crate that includes over $50 in decor, supplies, food, and gear.
10. Quail Mail Club
Quail Mail Club offers three outstanding outdoor subscription boxes that make it easy for families to explore hiking trails in California.
The San Diego Family Hike Kit offers hiking guides and souvenirs for family-friendly trails in San Diego. With the Premium Family Hike Kit, you'll enjoy information on trails in Southern California. Lastly, the Inland Empire Family Hike Kit has guides on trails in Inland Empire.
All of the trails recommend in these boxes are less than 2 miles long and have been tested by kids and parents, so you know you'll be exploring something your family will enjoy. The boxes also include all the information you need to know before you arrive, such as park fees and restroom locations.
Plus, kids will have fun following the included trail map and searching for plants, animals, and artifacts using the scavenger hunt created specifically for that destination.
Related: The One Piece of Gear You Must Have When Hiking With Young Children
11. The Happy Glamper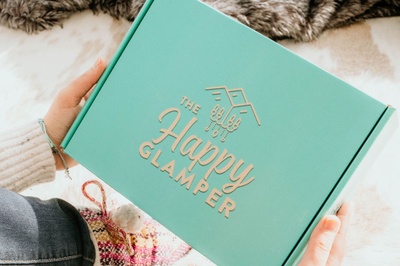 The Happy Glamper proves that enjoying the great outdoors doesn't have to be a struggle. This quarterly subscription box features a different regional theme each season and includes 4 to 7 luxury glamping gadgets and products from local artisans.
The products in these boxes are so fun and unique, you'll want to say yes every time you get invited along on an outdoor adventure just so you have an excuse to use them.
Best Subscription Boxes for Outdoors Lovers
No matter what type of outdoor adventure you enjoy, you know you can get some of the latest gear and accessories to make your outings even more exciting when you check the best outdoor subscription box. Plus, if you're looking for a great gift for the outdoor lovers in your life, there's no doubt they'll absolutely adore these subscription boxes!
More Outstanding Hiking Tips
Did you enjoy checking out this list of the best outdoor subscription boxes for hikers? Are you interested in discovering even more helpful hiking tips? Then please be sure to take a look at some of our other popular posts: