10 Best Hiking Pants for Men
When you're on the trail, you expect a lot from your hiking pants. You want something that's comfortable, durable, and helps you handle whatever type of weather you're hiking in. That's why you should choose one of these best hiking pants for men.
Whether you need breathable pants that can help you beat the heat or stylish pants that can take you straight from the trail to walking around town, you'll find exactly what you want on this list. Check out the top features of these men's hiking pants so you can decide which pair will suit your needs best.
Related: Best Hiking Pants for Women
1. Best Overall Hiking Pants for Men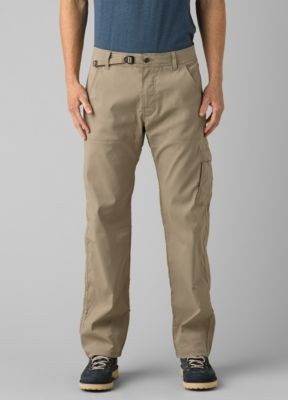 These PrAna Stretch Zion hiking pants are the best overall option because they have a lot of positives going for them. You'll have a hard time finding hiking pants that are as comfortable as the Stretch Zion.
They have a fantastic range of motion thanks to their stretchy yet durable material. In addition to a PFC-free durable water-repellent finish, these pants are also abrasion-resistant, wrinkle-resistant (so they're great for travel), and have built-in UPF 50+ protection.
The zippered cargo pocket is perfect for storing anything you want to keep close at hand. The hiking pants also feature an integrated waist tightener that helps them stay up without using a belt.
Related: The Most Comfortable Hiking Boots for Men
2. Best Budget-Friendly Hiking Pants for Men
If you're looking for a pair of affordable hiking pants that can still stand up to those strenuous hikes, check out these Free Soldier Men's Outdoor Cargo Hiking Pants. These scratch-resistant and wear-resistant hiking pants are made of nylon and spandex for outstanding comfort, moisture absorption, and flexibility.
They feature two front slant pockets, two large zipper security cargo pockets, and two straight back pockets to hold everything you need. They also have a built-in adjustable belt to help you get the perfect fit.
The water-repellent coating helps keep the pants dry and clean. Plus, the UPF 50+ protection blocks UVA and UVB rays and safeguards your skin from sun damage.
Related: Easy-to-Use Water Filters for Hikers
3. Most Breathable Hiking Pants for Men
These Outdoor Research Ferrosi pants are amazingly lightweight and breathable. They're made from durable ripstop fabric and 14% spandex, which is a higher amount than most other pants use. This makes them incredibly stretchy, unrestrictive, and helps you move across all types of terrain.
The fabric is also great at temperature regulation. They can cut down on the wind, shed light rain, and dry quickly when the temperature starts to climb. They also have drawcord cuff closures to keep out mud and debris and UPF 50+ sun protection to safeguard your skin.
Plus, the back drop-in pockets and right hip security zipper pocket let you keep important items nearby.
Related: The Best Hiking Socks for Men
4. Best Men's Hiking Pants for Hot Weather
These Patagonia Quandary hiking pants are a fantastic option when you're hiking in the summer heat. They're comfortable, lightweight, and they breathe well. Plus, to help you handle both rain and sun, the stretch-woven fabric has a durable water-repellent finish and 50+ UPF sun protection.
Related: Important Tips You Need to Know About Hiking in the Heat
The pants have a stylish cut and fit that's not too loose or too tight and sits on the waist with a regular rise. They also have two rear pockets, one right coin pocket, one right thigh zippered pocket, and handwarmer pockets.
5. Best Convertible Hiking Pants for Men
Convertible hiking pants are another option you can consider when you're hiking in the heat. If you're looking for the best convertible hiking pants for men, you'll love these Columbia Silver Ridge Convertible pants. These pants come with plenty of handy features you'll appreciate on the trail.
If you start to get too warm while you're hiking, the zip-off legs will instantly transform these pants into shorts. The partial elastic waist and included belt help you get a perfect fit.
Plus, the wicking fabric with UPF 50 Omni-Shade protection pulls moisture away from your skin to keep you cool and dry while also shielding you from harmful UVA and UVB rays.
Related: How to Prevent Blisters When Hiking
6. Best Winter Hiking Pants for Men
Winter hikes call for pants that can stand up to chilly temperatures and snowy conditions. That's why these Outdoor Research Cirque II Pants are the best for those colder hikes.
Related: Important Winter Hiking Tips You Need to Know
These pants are designed for alpine climbing and mountaineering, so you know they can handle cold weather. They're made with water and wind-resistant material to offer you outstanding protection against the elements. Plus, although they're lightweight and breathable, these abrasion-resistant pants are still tough enough to handle terrain that might tear other hiking pants.
Additionally, the double-weave stretch fabric and articulated knees provide impressive comfort and excellent range of motion.
7. Best Waterproof Hiking Pants for Men
You might not always have the best weather when you're hiking. If you end up hiking on a rainy day, you'll be glad you're wearing these Houdini BFF Pants.
Related: How to Stay Dry When You're Hiking in the Rain
The waterproof and breathable shell fabric on these pants will keep you dry and comfortable during those downpours. These pants also feature a stretchy, lightweight fabric that provides full range of movement.
Plus, the BFF Pants are friendly toward our planet. The membrane and water repellent are both free from hazardous fluorocarbons.
Since the fabric is both recycled and recyclable, the pants are robust, repairable, and will last you for many years. When they finally do wear out, you can send them back to Houdini for recycling.
8. Most Durable Hiking Pants
Mountain Hardwear started out making gear for rock climbers, so you know what they offer can stand up to some abuse. If you're tough on your hiking pants, check out the Mountain Hardwear AP.
"Backpacker" magazine gave the AP its Editor's Choice Award for its unrivaled design, fit, and versatility. The pants are made from a blended canvas fabric that's durable and comfortable while still providing excellent stretch and movement.
The built-in UPF 50 protection filters harsh UV rays and shields your skin. The pants also feature roll-up cuffs that can help with ventilation and make it easier to keep them dry at water crossings.
Related: Best Hiking Backpacks for Every Type of Hiker
9. Most Stylish Hiking Pants
These PrAna Brion pants have a more casual look that can easily help you transition from the trail to the town. They're made from the same comfortable performance fabric as the Stretch Zion pants, so you know they'll be able to handle anything you have planned.
They also feature the added protection of PFC-free durable water repellence and UPF 50+. Plus, they're wrinkle-resistant, so you can roll them up in your suitcase and put them on as soon as you get to your destination.
Related: Best Hydration Packs for Hikers
10. Best High Quality Men's Hiking Pants
Arc'teryx makes some of the lightest and most comfortable hiking pants you'll ever wear, and the Arc'teryx Lefroy is no exception. Although these pants are on the expensive side, you definitely get what you pay for here.
Since these hiking pants are made with a breathable material that allows moisture to escape and helps regulate your body temperature, they're better for those warm-weather hikes.
They come with an adjustable integrated belt to help you get the perfect fit. They also include articulated patterning and a gusseted crotch for outstanding comfort and unrestricted mobility.
Best Men's Hiking Pants for Every Hiker
Finding the right hiking gear doesn't have to be a challenge. No matter what type of hike you have planned, you know you can stay comfortable on the trail when you choose one of these best hiking pants for men.
More Helpful Hiking Tips
Did you find this list of the best hiking pants for men helpful? Interested in checking out even more outstanding hiking tips? Then please be sure to take a look at some of our other popular posts: